The quarterly newsletter you won't want to miss – emailed FREE with your OASNP membership!
Read The OASNP Newsline to learn about the issues that affect you, the professional and support staff working with children and adults with special needs in Ohio.
Watch for these features, and more!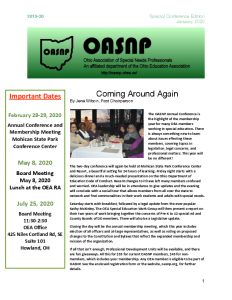 Legislative Updates – the latest on current issues.
Legal Briefs – news on court cases.
Local Focus – stories written by OASNP members with local news from around the state.
Local School District and CBDD News
News Reports – from the local, state, and national level.
The OADDP Newsline – Newsletter of the Ohio Association Special Needs Professionals.
Jene' Wilson, Editor; Bob Matkowski, OEA Liaison.
Send inquiries to Jené Wilson.
The OASNP Newsline is published quarterly by OASNP, an affiliated department of the Ohio Education Association, and is distributed by email to all OASNP members.
Add your email or click to UPDATE your OASNP Membership information.
For membership information contact visit our Membership page.
Newsletters
Click on the link to open a PDF copy of the Newsline.